-
Daily Prisoner Population Breakdown
Monday 22nd September 2014
To view the number in custody in each of our prisons click here 
27 August 2014
New Campus Governor for Mountjoy Prison Campus Announced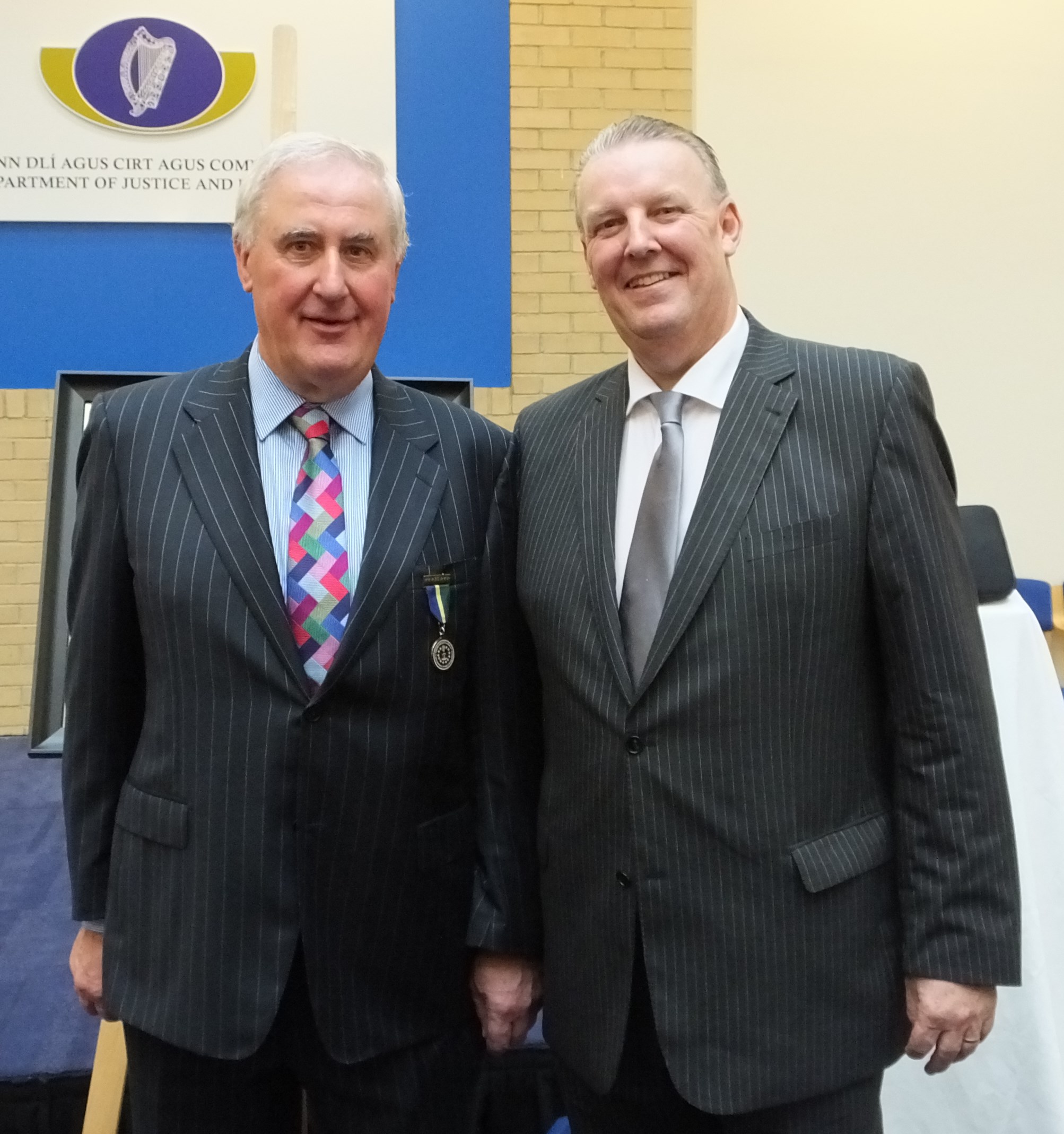 In pic (l-r). Outgoing Campus Governor Edward Whelan
with newly appointed Governor Brian Murphy
The Minister for Justice and Equality, Ms Frances Fitzgerald TD, has announced the appointment of Brian Murphy as the new Mountjoy Prison Campus Governor. He will take up his position as Campus Governor on 1st September 2014 and will succeed Edward Whelan upon his retirement at the end of this month.
7 August 2014 
Stamp Collection Launched to Honour the Irish Prison Service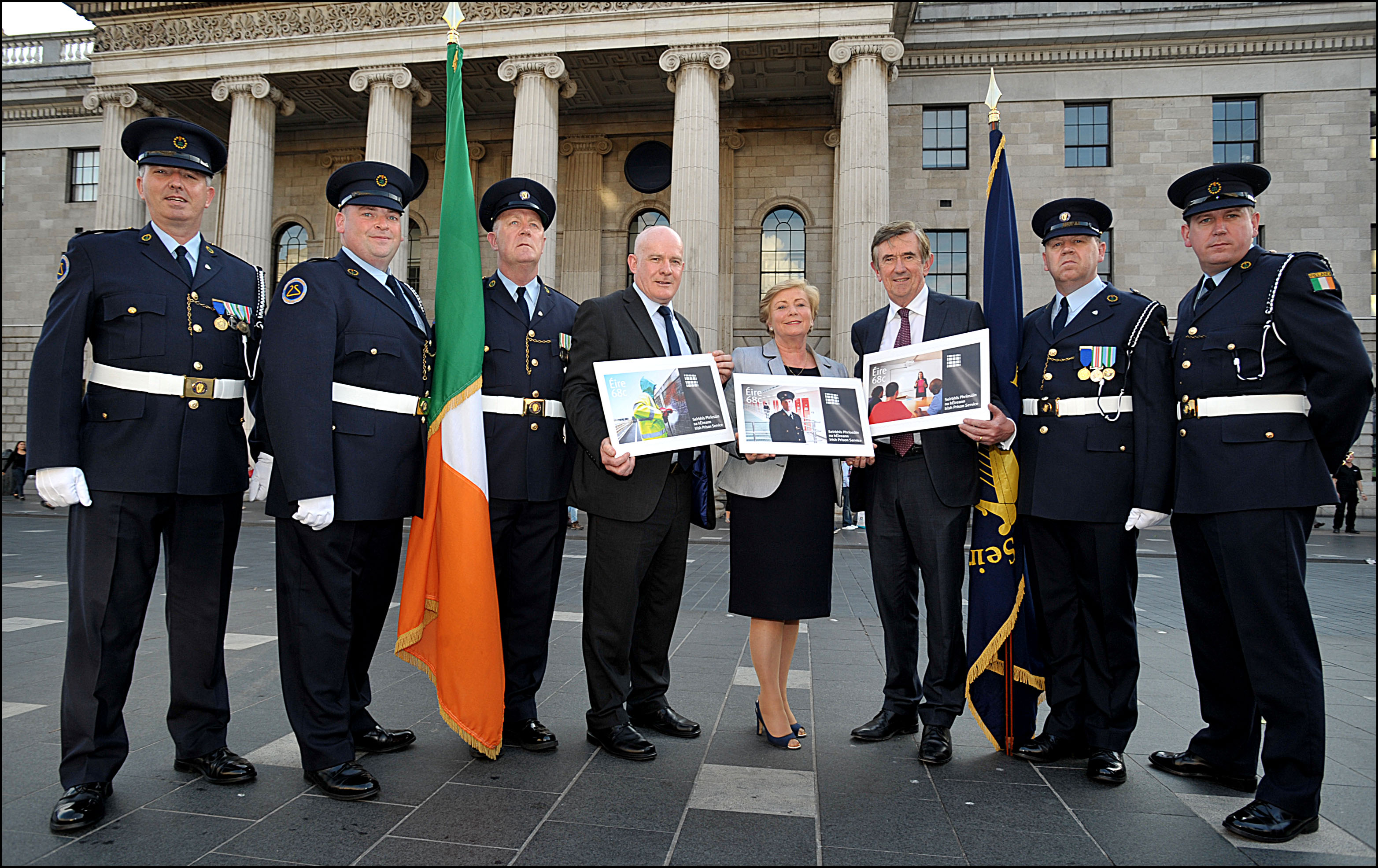 Decades of dedicated service to the State is celebrated in a four stamp set issued by An Post and unveiled by the Minister for Justice and Equality Frances Fitzgerald TD. The stamps each feature a core aspect of the Prison Service: Care & Custody, Rehabilitation, Restorative Justice and Education.  Read more..
To read the Minister's Speech in full click here
23 July 2014
Census of Prisoner Population Including Restricted Regimes and Cell Occupancy,
The Irish Prison Service Statistics Office has commenced the collation of a Census of the Prison Population which includes an examination of the prisoners who exist on a restricted regime, meaning their out of cell time is restricted to 5 hours or less per day and a breakdown of cell ocupancy accross the system including access to in-cell sanitation.
To view the results of the must recent Census from the 1st July 2014 click the following links.
Cell occupancy and In-cell Sanitation
To access all previous Census Reports (since July 2013) click here.
 16 July 2014
Cost Per Available Staffed Prison Space in 2013
The average annual cost of an available, staffed prison space during the calendar year 2013 was €65,542, a very small increase on the 2012 cost of €65,404.
Consistent with calculations in previous years, only costs under the direct control of the Irish Prison Service are included. Capital expenditure, including building and equipment assets and small works, is excluded from the calculations in the interest of facilitating comparisons between prison types and year-on-year.
To read more click here
19th June 2014
Irish charity 'Dogs for the Disabled' launches unique breeding programme with the Irish Prison Service and introduces its newest recruits.
This Thursday, 19th June, Irish charity 'Dogs for the Disabled'  officially launched its unique partnership with the Irish Prison Service. Mary O'Connor, Governor of the Dóchas Centre and Patrick Corcoran, Assistant Governor at Shelton Abbey Prison, were on hand along with Dogs for the Disabled CEO, Jennifer Dowler, to introduce their newest recruits, nine Labrador puppies, from their unique breeding programme.
Prisoners at the Dochas Centre and Shelton Abbey are carefully selected to care for the puppies and their mother throughout the pregnancy and birth, and to help with their training at a later stage in their development. The programme is designed to aid with the rehabilitation of the prisoners by reinforcing the importance of responsibility, through the nurturing of the puppies and their mother. 
For more information contact the Press Office