'Humans Sharing Spaces' exhibition 2017 -
March 3rd, 2017
---
---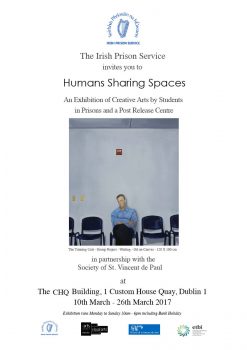 The Irish Prison Service Presents the National Prison Creative Arts Exhibition
'Humans Sharing Spaces'
The exhibition 'Humans Sharing Spaces' is the culmination of creative artistic work created by people in prisons throughout Ireland. It also includes work from the post release centre PACE and Churchfield Community Centre in Cork. The works on display in the exhibition cover a broad variety of art forms including paintings, drawings, sculpture, print making, mosaic, photography, video, pottery, and poetry. This year the Exhibition is in partnership with the Society of St Vincent de Paul.
The aim of the Irish Prison Service Education Centres is to deliver a high quality, broad, flexible programme of education that helps people in custody cope with their sentence, achieve personal development, prepare for life after release and establish an appetite and capacity for lifelong learning. The Service seeks to deliver relevant programmes that cater for holistic needs, ensure broad access and high participation, and prioritise those with basic education needs. It promotes the principles of adult and community education and supports a multidisciplinary approach within the prison system.
Creative Arts, Craft, and Design courses are an integral part of the curriculum in each of the Education Centres. The most popular creative arts are the visual arts, music, writing and drama. The teachers who deliver such courses within prison based education centres are employed by Education Training Boards, under the auspices of the Department of Education and Skills.
On occasion, structured teaching activity in the area of the creative arts is augmented and enhanced by workshops delivered by professional artists, working in specific areas of the Creative Arts. This Scheme, called the 'Visual Artist in Prison Scheme', is jointly funded by the Arts Council and the Irish Prison Service. These workshops are of tremendous benefit to the person in custody, enhancing key skill areas which enable them to further develop their proficiency in a particular area of the creative arts.
Persons in custody engage in the arts for a variety of reasons. For many it will facilitate the formalising of skills learned previously, for which they may have not had any formal certification or validation. For others, it may be their first opportunity to work in this area. The attainment of skills, knowledge and certification which is to be welcomed and encouraged is but one facet of the benefits of participation in the many creative arts programmes available. The benefits, sometimes unquantifiable are of equal importance such as learning to work on one's own initiative, working as part of a team, anger management skills, respect and acknowledgement of other people, patience and understanding. These are all personal skills which are enriched and enhanced by participation in the creative arts programmes available in the prisons.
This exhibition is an opportunity for the Irish Prison Service to put on public view a sample of the many excellent items of creative art work being produced in each of the Prison Education Centres every day.