Irish Prison Service College
---
The Irish Prison Service College is located on the Dublin Road, Portlaoise, adjacent to the Portlaoise Prison Campus. 
Learning and Development
The Irish Prison Service College is responsible for the planning, coordination, design, delivery, evaluation and recording of all learning and development activities for the organisation staff, including:
· Leadership, management, human resources and induction training;
· Operations and security training;
· Health and safety training;
· Prisoner care training;
· IT, finance and administration training;
· Healthcare training;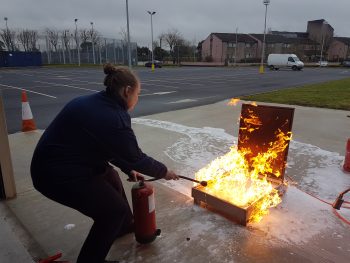 Facilities
The Irish Prison Service College has a range of classrooms, breakout rooms, meeting rooms, a prison simulation centre, a small library, a small gym, dining facilities and accommodation. In addition to hosting training for our own staff, the College also facilitates organisational and corporate meetings, seminars and conferences for the organisation.
Contact Details
Irish Prison Service College Reception and General Enquires 057-8634800
Email: IPSCreception@irishprisons.ie
Induction Training
All new entrants to the organisation complete basic induction training at the Irish Prison Service College. The duration of this induction training varies depending on the grade and role with new Prison Nurses and Administrative Staff completing three weeks of training. Recruit Prison Officers complete Semester 1 of a 2 year Higher Certificate in Custodial Care, in the Irish Prison Service College. The remaining 3 semesters of this induction programme are delivered by Waterford IT, in conjunction with the Irish Prison Service College, in Dublin, where all students are posted as Recruit Prison Officers following successful completion of Semester 1. The details of this programme, are outlined below.
Higher Certificate in Custodial Care
The aim of the Higher Certificate in Custodial Care is to develop the character and competence of Recruit Prison Officers so that they can act responsibly and ethically in order to effectively contribute to the safe, secure and humane custody of the people in their care, in accordance with the IPS mission, vision, values and strategic objectives. The mandatory completion of this 2 year programme is intended to:
a. Inculcate in prison officers a values-based approach in their interactions with prisoners;
b. Provide prison officers with the skills to operate ethically and effectively in their role;
c. Develop an understanding of the importance of the role of the prison officer in the care and rehabilitation of prisoners.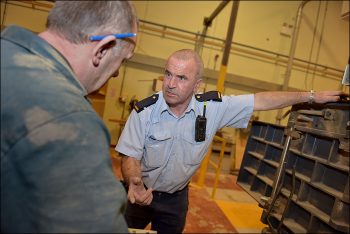 Format of the Programme
The format of the programme is as follows: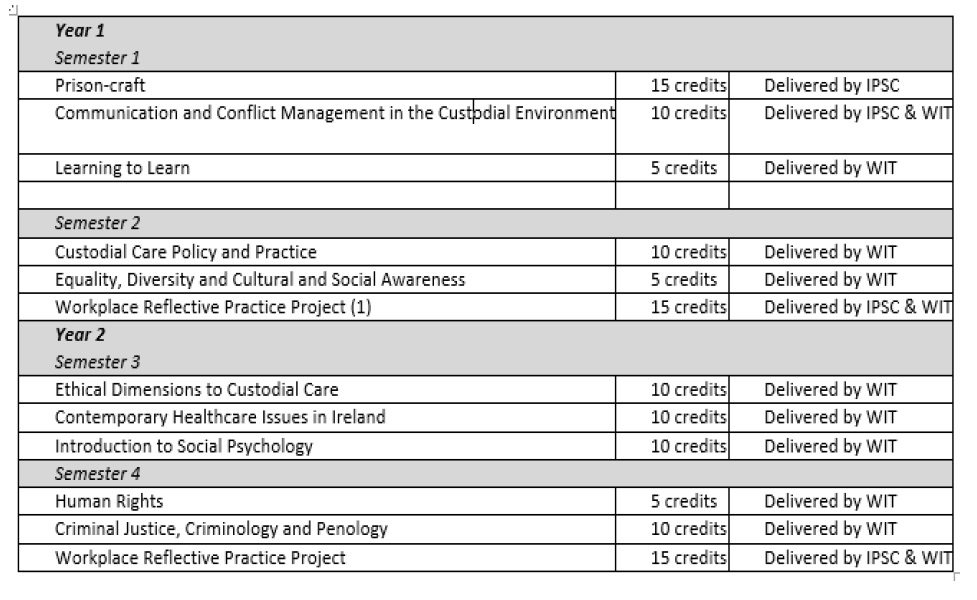 Schedule for Recruit Prison Officer Training
Semester 1 of the Higher Certificate in Custodial Care will commence on the following dates, for successful applicants from the most recent Recruit Prison Officer recruitment campaign (which closed on 28th July 2016):
· Class 02/2017: 24 April 2017 to 14 July 2017;
· Class 03/2017: 21 August 2017 to 10 November 2017;
· Class 04/2017: 25 September 2017 to 15 December 2017.
Successful applicants should note:
· These dates are provisional.
· Entry onto this programme is dependent on security clearance.
Back to Top